Product description
Bathmate brings unique technology to the world of vacuum pumps. The Bathmate vacuum pump uses water pressure and, with regular use for 15-20 minutes a day for 6 weeks, increases penis length by up to 30% and volume by 40%. With Bathmate, you don't have to worry about the yo-yo effect, as the results are lasting thanks to long-term use. We recommend using Bathmate in a bath or shower.
The Bathmate vacuum pump is made of plastic material. The rubber cuff ensures perfect adhesion to the skin. The vacuum can be regulated by a valve at the top of the pump.
More than a long penis by 7 cm
Regular use of Bathmate helps with a stronger and longer erection, which allows stimulation of ejaculation. These are the factors that will allow you to enjoy a better sex life.
What does Bathmate bring?
Length increase up to 30%
Volume increase up to 40%
Better and stronger erections
Stronger orgasm
Prevents premature ejaculation
Removal of the curvature of the penis
Long-term sex
How is Bathmate used?
Take a dip in the bathtub and put the Bathmate on your penis. Once the pump is filled with water, push it to the root of the penis to create a vacuum. Excess water can be regulated by a valve at the top of the pump.
Gradually increase the pressure every 4 - 5 minutes. If the pressure is too high, it can easily be reduced with a valve. After 15 minutes, completely release the pressure and remove the device. You will notice penis enlargement in the first moment. For a lasting effect, repeat this daily for 6 weeks.
Total length 29 cm, length of the functional part 23.5 cm.
Diameter outer 8.5 cm, inner: 5.5 cm.
| | |
| --- | --- |
| Vibrace: | no |
| Materiál: | Plast |
| Barva: | Modrá |
| Délka: | 29 cm |
| Voděodolnost: | yes |
Review
There are currently no product reviews. Be the first.
Related products
BATHMATE HYDRO7
Bathmate brings unique technology to the world of vacuum pumps. The Bathmate vacuum pump uses water…
BATHMATE HYDRO7
Bathmate přináší unikátní technologii do světa vakuových pump. Vakuová pumpa Bathmate využívá…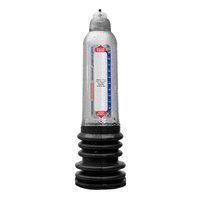 BATHMATE HYDROMAX9
Nejnovější model od společnosti Bathmate je luxusní, vodní vakuová pumpa Hydromax X40. Pumpa…

In stock
146.12 €