Product description
The Twitchy Palm beater from the Fifty Shades of Gray collection is made of satin and soft, artificial leather.
It is gray on one side and black on the other.
The package contains a satin storage bag.
Length: 32 cm.
Review
There are currently no product reviews. Be the first.
Related products
Satin handcuffs
Fine and amazingly strong satin, silk handcuffs from the Fifty Shades of Gray collection will…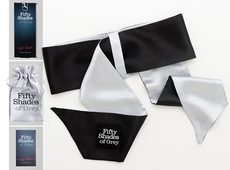 Bondage Submit to Me by Fifty Shades of Grey
Fifty shades of gray bring you a unique collection of erotic aids and the Sumbit to Me product. The…
FSOGD Secret Prince Mask Shades of Grey
Black Shades of Gray mask with eye holes and an elastic waistband on the back. Size: 23x10x8 cm.  

skladem
26.88 €