Product description
Crystal stimulating masturbator for men from the most popular manufacturer of men's erotic toys - Fleshlight.
The uniqueness of all Fleshlight products lies not only in the high quality of workmanship and a truly realistic feeling of satisfaction, faithfully reminiscent of making love to a woman, but also in the innovative opportunity to have comfortable safe sex without the risk of contracting diseases or exposure to other unpleasant experiences.
To use the Fleshlight artificial vagina, additional lubrication is necessary, for which you can choose any of our range of water-based lubricating gels.
Tips and tricks for use:
Note: inside each Fleshlight men's masturbator, a plastic tube is inserted in the vagina from below, keeping the "Real Feel Super Skin" material in the desired shape during transport. This tube must be removed before first use, otherwise there is a risk of injury to men
Instructions for use: remove the inner Superskin insert from the tube and immerse it either separately or together with the outer packaging in a sink with warm (not boiling !!!) water for a few minutes. This will enhance the perfectly faithful feeling of body temperature in a woman's intimate environment. Then dry both parts, put the inner part back in the tube, apply the recommended lubricating gel and you can indulge in long moments of sweet moments during your masturbation. The regulation of the intensity of the vagina tightness is ensured by a screw cap on the underside of the Fleslight, by means of which - by opening or closing the suction air, you create a greater or lesser negative pressure inside the erotic aid. If you are a so-called connoisseur and you like a variety of vibrating devices, do not despair, get some of the magical vibrating eggs, insert it into the bottom of the Fleshlight vagina and enjoy even deeper feelings of unbridled passion.
| | |
| --- | --- |
| Vibrace: | no |
| Materiál: | Nature skin |
| Barva: | Čirá |
Review
There are currently no product reviews. Be the first.
Related products
Fleshlight Girls - Teagan Presley Bulletproof
Luxusní anální masturbátor Fleshlight GIRLS Teagan Presley je vyroben z materiálu real skin, který…
Fleshlight Girls - Christy Mack Attack
Fleshlight Girls Christy Mack Vagina with a realistically cast shape of lips and clitoris according…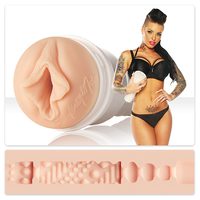 Fleshlight Girls - Riley Reid Utopia
The Fleshlight Riley artificial vagina is made of a special real skin silicone material, which is…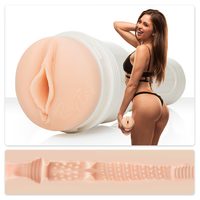 In stock
115.35 €