Product description
Gigi is the perfect conqueror of the G-spot. The elegantly shaped body has a quiet but strong motor that perfectly stimulates your intimate places and offers 5 vibration programs. The intensity of the vibration can be easily corrected using the + - buttons, which are complemented by a key lock, which prevents the vibration from triggering. The control unit is backlit, so handling will be easy even in the dark. The pleasantly soft surgical silicone allows for easy penetration and the plastic handle for easy holding for better handling. Surgical silicone is hypoallergenic and easy to wash. The vibrator is resistant to running water. The LELO Gigi vibrator is rechargeable and 1 hour of charging will ensure you up to 90 minutes of pleasure.
Vibration programs:
continuous vibration
pulsation at extended intervals
pulsation in medium intervals
pulsation at short intervals
pulsations in long waves
Size 165 x 35 x 33 mm, Weight 92 grams
Package contains
charger
gift box
satin bag
| | |
| --- | --- |
| Typ dráždění: | G-bod |
| Vibrace: | yes |
| Materiál: | Lékařský silikon |
| Barva: | Fialová |
| Voděodolnost: | yes |
| Vlastnost materiálu: | Měkký na dotek |
| Napájení: | Nabíječka |
| Typ baterie: | Nabíjecí akumulátor |
Review
There are currently no product reviews. Be the first.
Related products
AquaGlide Jahoda 100ML
AquaGlide lubricating gels are guaranteed to be of the highest quality and do not contain any added…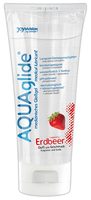 In stock
11.50 €
DurexPlay massage & lubricant s Aloe Vera
The most popular massage gel and lubricant, perfect for partner foreplay and use in intimate places…

In stock
9.58 €