Product description
Lelo Luna Smart Bead are another very original Venus ball. They have touch sensors that respond to the pressure of your pelvic muscles. So all you have to do is engage your muscles and the vibrations are activated. Lelo Smart Bead completely adapts to the strength of your pelvic muscles during exercise. Lelo Luna Smart Bead offers you 5 progressive vibration levels, which are controlled automatically according to the strength of your pelvic floor. With regular use, you will enjoy longer and stronger orgasms. Luna Bead are made of fine medical silicone, the material is pleasant to the touch, easy to keep clean and hypoallergenic.
Touch sensors measure the potential of orgasm
5 successive vibration levels
Smart memory remembers your progress
Up to 200 training sets from one AAA battery
Medical silicone
100% waterproof
Dimensions: 31 x 34 x 82 mm, Weight: 50g
How does it work:
Turn on and insert.
Press when it vibrates and rest when it stops.
Continue the same until completion.
Longer and stronger orgasms!
Training:
Pressing the "O" button on the Lelu Luna Smart Bead turns on the vibrating egg and the flashing LED located next to the button indicates the training level (one flash = Level 1, etc.).
3 fast vibrations signal the beginning of your routine, then simply insert and squeeze the pelvic floor muscles if the vibrating egg vibrates and rest if the vibration stops. Each workout lasts about 5 minutes.
Lelo Luna Smart Bead remembers the last program according to the strength of your pelvic floor.
3 fast vibrations signal the completion of the routine, then it automatically shuts off.
Package contains:
massage machine
gift box
satin bag
AAA batteries
This product is no longer manufactured.
| | |
| --- | --- |
| Typ dráždění: | Zdravotní pomůcka |
| Vibrace: | yes |
| Materiál: | Lékařský silikon |
| Barva: | Fialová |
| Voděodolnost: | yes |
Review
There are currently no product reviews. Be the first.
Related products
Lelo Hula - black
Hula Beads are a novelty in the world of erotica in the category of venus balls. The balls rotate…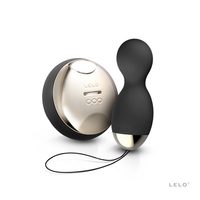 In stock
237.04 €
Lelo Hula - purple
Hula Beads are a novelty in the world of erotica in the category of venus balls. The balls rotate…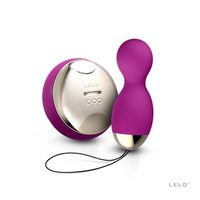 In stock
237.04 €
Lelo Luna
Lelo not only produces some of the best vibrators in the world, but also luxury Venus balls Luna.…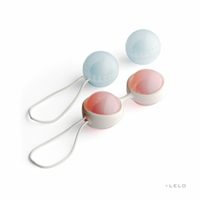 In stock
84.23 €