Product description
Although the Mona is one of the medium-sized vibrators, its perfect curves and functions perfectly match its larger siblings. The elegantly shaped body is specially adapted to most effectively stimulate the G-spot. Mona's body is made of medical silicone, which is anti-allergenic. The handle is made of comfortable plastic and has a backlit control that can be locked. Mona is resistant to running water and offers 6 stimulation modes from which even the most demanding user can choose. In just 2 hours of charging, you will enjoy up to 4 hours of hitherto unknown pleasure. You will receive it in an elegant gift package with a charger and a satin case for stylish storage. Dimensions 200 x 51 x 33 mm.
Material PC-ABS / medical silicone
Silky surface
Size 200 x 51 x 33 mm
Weight 110 grams
Battery Li-Ion 500 mAh 3.7 V
Charging 2 hours
Endurance up to 4 hours *
Pohot. period up to 90 days
Frequency 120 Hz
Max. noise <50dB
+/- button control

* at 70% intensity
This product is no longer available.
Review
There are currently no product reviews. Be the first.
Related products
BIOglide 150 ml
All ingredients are made of natural substances that are dermacologically and allergically tested.…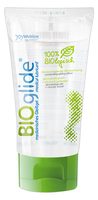 In stock
15.35 €