Product description
The Ayla vibrator is another novelty from the Loveo brand, which comes with modern technology to the world of erotica. Thanks to special sensors, Ayla can react to the intensity of human heat and activates the intensity of vibrations accordingly. The deeper we get inside the vibrator, the more intense the vibrations. The more heat, the more pleasure. Ayla will provide you with a completely new erotic experience with which you will get to the top of bliss.
In addition to vibrations according to the insertion depth, the Ayla vibrator also has 7 classic vibration modes, which you can regulate manually. The modern look of the vibrator copies the shapes of a woman's body. The vibrator is made of medical silicone, which adapts perfectly to your body. It is velvety soft to the touch, easy to maintain and hypoallergenic. Ayla will win you over thanks to the magnetic power supply, which is not only practical, but also waterproof.
The powerful battery offers up to 3 hours of vibration on a single charge.
Lightweight vibrator made of medical silicone
Unique thermotechnology
3 levels of vibration intensity
Rechargeable batteries
100% waterproof
7 manual programs
intuitive operation
| | |
| --- | --- |
| Typ dráždění: | G-bod, Klitoriální |
| Vibrace: | yes |
| Materiál: | Lékařský silikon |
| Barva: | Růžová |
| Délka: | 19 cm |
| Voděodolnost: | yes |
Review
There are currently no product reviews. Be the first.
Related products
Loveo Euphoria purple
The Euphoria vibrator is another modern erotic toy from the Loveo brand, which will guarantee you a…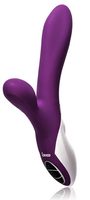 In stock
45.77 €
Loveo Noemi růžová
Loveo Noemi je vibrační hračka, která dokáže překvapit. Netradičně tvarované tělo Vám dodá nejen…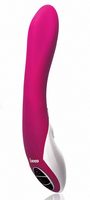 Sale

In stock
38.08 €
Loveo Ayla purple
The Ayla vibrator is another novelty from the Loveo brand, which comes with modern technology to…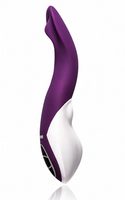 In stock
34.23 €