Product description
Treat yourself to double the pleasure. The Loveo Duo also stimulates the clitoris and the G-spot, which irritates not only vibrations but also circular movements to multiply pleasure. The vibrator is connected to a mobile application for smartphones with Android and iOS, which is used for control. On your way to ultimate pleasure, you can switch between 6 preset vibration modes with 5 levels of intensity.
You can create your own vibration modes. You know best what you like. Or be surprised. The application can respond to music and adapt to vibrations. And best of all: the application can be controlled by someone else, whether it's with you or on the other side of the planet. Giving in to your partner's imagination has never been easier.
The Loveo Duo is made of medical silicone, which is a joy to touch for its velvety soft surface. In addition, the vibrator is 100% waterproof and lasts up to 2 hours on a single charge.
Dimensions: 107 × 84 × 47 mm
Material: medical silicone
Battery life: 2 hours
Review
There are currently no product reviews. Be the first.
Related products
Loveo Nox purple
Loveo nox is an erotic toy full of surprises. Nox is the first vibrator in the world that you can…

Sale

In stock
45.77 €
Loveo Euphoria purple
The Euphoria vibrator is another modern erotic toy from the Loveo brand, which will guarantee you a…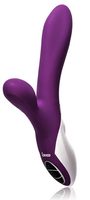 In stock
45.77 €
Loveo Euphoria pink
Vibrátor Euphoria je další moderní erotická hračka od značky Loveo, která Vám zaručí hodně divokou…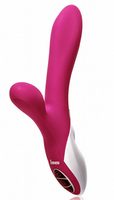 Discount -69%
Sale

In stock
45.77 €