Product description
Vibrátor Euphoria je další moderní erotická hračka od značky Loveo, která Vám zaručí hodně divokou jízdu. Euphoria nabídne smyslnou masáž bodu G a klitorisu zárověň.  Je navrhnutá tak, aby smyslnými vibracemi zasáhla dvě nejcitlivější místa Vašeho těla. Euphoria dokáže rozpoznat intenzitu lidského tepla, čím hlouběji je vibrátor v tělě, tím jsou vibrace intenzivější. Divoká jizdá může zažít!
Vibrátor má kromě vibrací podle hloubky zasunutí dalších 7 klasických vibračních módů. Zvlášť si můžete regulovat vibrace na obou koncích, pomůže Vám s tím jednoduché intuitivní ovládání. Euphora nabídne až 3 hodiny vibrací. Nabíjení je řešené moderním magnetickým systémem. Vibrátor je vyroben z lékařského silikonu, který je sametově jemný na dotek, snadno se udržuje a je hypoalergenní. Tělo vibrátoru je voděodolné, užívat si tak můžete vodních radovánek.
z lékařského silikonu
3 super výkonné vibrační motůrky
7 manuálních programů
Nabíjecí baterie
100% vodotěsný
3 stupně intenzity vibrací
Intuitivní ovládán
Tento produkt je již skladově nedostupný.
Review
There are currently no product reviews. Be the first.
Related products
Loveo Euphoria purple
The Euphoria vibrator is another modern erotic toy from the Loveo brand, which will guarantee you a…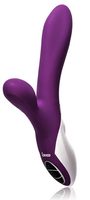 In stock
45.77 €
Loveo Duo purple
Treat yourself to double the pleasure. The Loveo Duo also stimulates the clitoris and the G-spot,…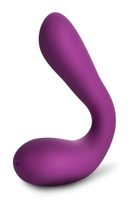 In stock
53.46 €
Loveo Noemi purple
Loveo Noemi is a vibrating toy that can surprise. The non-traditionally shaped body will not only…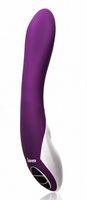 Sale

In stock
38.08 €