Product description
Modern with an exclusive design? It's Loveo Ione! A very light and thin vibrator that can do great things.
Read a great detailed review of Loveo Ione.
Ione is the first vibrator in the world that automatically responds to the touch of your body. Sensitive sensors adjust the vibrator's vibrations based on your body's response. Treat yourself to a long and gentle erotic massage of the clitoris and G-spot. Don't strain and let yourself be relaxed by relaxing the whole body with the Ione vibrator. The vibrator is made of high-quality medical silicone, which is pleasant to the touch, easy to keep clean and hypoallergenic. The small dimensions of the vibrator (length 21.4 cm and width 3.8 cm) will delight you at home and on the go. The powerful vibrator battery gives up to two hours of vibration.
The battery is charged using a USB cable.
Touch vibration technology
Medical silicone
7 manual programs
Rechargeable batteries
100% waterproof
3 levels of vibration intensity
Intuitive operation
| | |
| --- | --- |
| Typ dráždění: | G-bod, Klitoriální |
| Vibrace: | yes |
| Materiál: | Lékařský silikon |
| Barva: | Růžová |
| Délka: | 21.4 cm |
| Voděodolnost: | yes |
Review
There are currently no product reviews. Be the first.
Related products
Loveo Nox purple
Loveo nox is an erotic toy full of surprises. Nox is the first vibrator in the world that you can…

Sale

In stock
41.92 €
Loveo Euphoria purple
The Euphoria vibrator is another modern erotic toy from the Loveo brand, which will guarantee you a…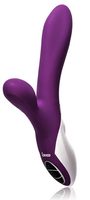 In stock
45.77 €
Loveo Duo purple
Treat yourself to double the pleasure. The Loveo Duo also stimulates the clitoris and the G-spot,…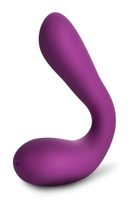 In stock
53.46 €