Product description
Loveo Noemi je vibrační hračka, která dokáže překvapit. Netradičně tvarované tělo Vám dodá nejen prostor k rozvíjení Vaší fantazie, ale ukrývá 3 ultra výkonné a tiché vibrační motorky, které Vám poskytnout pořádnou dávku rozkoše. Noemi nabídne až 10 odlišných druhů vibrací. Dvě centra rozkoše uspokojí současně bod G i klitoris. Vibrátor Noemi je první vibrátor, který mění intenzitu vibrací podle hloubky zasunutí. Moderní senzory tepla, dokaží automaticky regulovat vibrace, čím hlouběji Noemi je. Vibrátor je výrobený z lékařského silikonu, který je sametově jemný na dotek, snadno se udržuje a je hypoalergenní.
Vibrátor je 100% voděodolný, svojí hračku si tak můžete vzít i do sprchy. Baterie vydrží až 3 hodiny vibrací, potěší Vás i moderní vodotěšné magnetické nabíjení.
Výkonný vibrátor z lékařského silikonu
3 super výkonné motorky
7 manuálních programů
Nabíjecí baterie
100% vodotěsný
3 stupně intenzity vibrací
Intuitivní ovládaní
Tento produkt je již skladově nedostupný.
| | |
| --- | --- |
| Typ dráždění: | G-bod, Klitoriální, Vaginální |
| Vibrace: | yes |
| Materiál: | Lékařský silikon |
| Barva: | Růžová |
| Voděodolnost: | yes |
Review
There are currently no product reviews. Be the first.
Related products
Loveo Noemi purple
Loveo Noemi is a vibrating toy that can surprise. The non-traditionally shaped body will not only…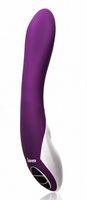 Sale

In stock
38.08 €
Loveo Nox purple
Loveo nox is an erotic toy full of surprises. Nox is the first vibrator in the world that you can…

Sale

In stock
45.77 €
Loveo Ayla pink
The Ayla vibrator is another novelty from the Loveo brand, which comes with modern technology to…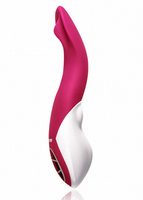 Discount -55%

In stock
34.23 €