Product description
Beautiful waterproof vibrator in purple design made by LELO brand. The vibrator is very quiet and suitable for stimulating the clitoris and the G-spot. Thanks to the handy body of the device, it adapts to the curves of your body. When shooting the device, you can easily regulate the strength and sensitivity of the touch, and the Picobong Kaya Rabbit allows you to control or prolong the excitement as you want.
The vibrator is made of medical silicone. Silicone is characterized by a softness pleasant to the touch. Waterproof to a depth of 1m!
Control of the tool is very easy with the help of 3 buttons. Use the + button to switch on the vibrator and you can select one of the 18 vibration speeds, which you can switch with the +/- buttons. Using the "M" button, you can easily select one of the 12 vibration programs. Inside the vibrator is one powerful very quiet motor, connected to an electronic chip, and in addition to smooth vibrations, you can control its pulse vibrations, which change in a different rhythm.
| | |
| --- | --- |
| Typ dráždění: | G-bod, Klitoriální, Vaginální |
| Vibrace: | yes |
| Materiál: | Lékařský silikon |
| Délka: | 19,7 cm |
| Váha: | 180 g |
| Průměr: | 3,7 cm |
| Voděodolnost: | yes |
| Napájení: | Baterie |
| Typ baterie: | 2 baterie AAA |
Review
There are currently no product reviews. Be the first.
Related products
PicoBong vibrátor Kiki 2 pink
This product is no longer in stock.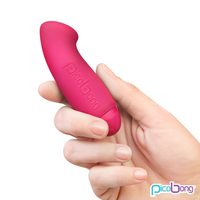 PicoBong vibrátor Ipo 2 purple
Small finger cartridge / vibrator. It has very easy operation and 12 amazing vibration modes 100%…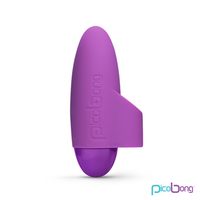 skladem
52.88 €
PicoBong vibrátor Honi 2 black
This product is no longer in stock.