Product description
The most elegant dual vibrator with a touch sensor and two motors will delight all your senses. The elegant and seductive design of the Lorna vibrator will provide maximum pleasure for the G-spot, clitoris and its surroundings. Dual independent motors and dual stimulators double your enjoyment every time you play with Lorna. The vibrator offers 8 different vibration modes, including a unique intelligent mode (a vibration mode that gradually changes and slowly increases in intensity until the user's complete ecstasy, within a few minutes). You can activate the touch sensor whenever you want, Lorna only vibrates when in contact with your body. The surface of the entire functional part of the vibrator is made of medical silicone, which has a soft velvety feel to the touch and is 100% waterproof. Its fineness is also proven by the highest quality materials used with 100% hypoallergenic properties, easy maintenance and environmental friendliness. Lorna is fully charging, the charging port is stylishly covered with a silver screw cap. Lorna will give you up to 2 hours of pleasure per hour of charging.
The vibrator is charged using the USB cable included in the package!
Dimensions: 176x84x30mm, Weight: 127g
SVAKOM is a premium international brand of sexual stimulators designed in the United States, with creative shapes using 100% rechargeable technology. SVAKOM is a high quality line of vibrators for women, has the fastest charging time in the industry and our innovative designs, including the first stimulator, are equipped with camera technology that allows you to capture and share intimate moments up close and in person.
Distinctive styles and designs of erotic aids provide intense pleasure. Incredibly quiet but powerful engines offer different speeds and intensities of maximum pleasure. SVAKOM has developed an intelligent regime based on a modern lifestyle. Smart mode has been scientifically researched, so users can rely on a dose of pleasure at the touch of a button. Intelligent mode takes the user on a seductive journey, starting with gentle vibrations that intensely take and a satisfying end.
This product is no longer available.
Review
There are currently no product reviews. Be the first.
Related products
Svakom Svakom - Nova Kegel Balls Plum Red
Svakom Nova is a set of three Venus balls, of different weights and shapes. Venus balls are…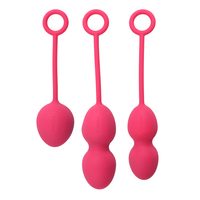 Discount -50%

In stock
38.08 €
Svakom - Emma Heating Wand Massager Violet
The Emma vibrator from the Svakom brand is a massage device that helps stimulate the clitoris and…
Discount -25%

In stock
115.00 €
Svakom Cici
Luxury Cici vibrator from the Svakom brand The vibrator head is very flexible, you can use it at…

In stock
88.42 €