Product description
2v1, to je Luna a Selene, vibrační vajíčko s dálkovým bezdrátovým ovladačem. Luxus a hravost, Luna ovládá Selene a Selene ovládá Luna. Luna je vodězdorné vibrační vajíčko, které masíruje vaginální stěny, zatímco Selene je o velikosti dlaně, dálkový ovladač, který funguje i jako doplňkový masážní přístroj a zároveň dobíjecí stanice. Selena je vhodná k masážím po celém těle, náramně masíruje klitoris a prsní bradavky. Oba přístroje pracují současně, ale i nezávisle na sobě. Bezdrátové ovládání nabídne neomezené možnosti i hry na veřejnosti, nikdo si ničeho nevšimne. Luna i Selene nabídnou 6 vibračních režimů, včetně inteligentního režimů (vibrační mód, který se postupně mění a pomalu nabírá na intenzitě až do úplné extáze uživatelky, během několika minut). Velmi tichý chod motoru patří k nejtišším mezi vibrátory Svakom! Obě části jsou vyrobeny z té nejvyšší kvality, extra jemného lékařského silikonu, který je velmi příjemný na dotek a patří mezi špičku materiálu užívaných v erotickém průmyslu. Selene slouží jako dobíjecí stanice, za hodinu nabíjení poskytne hodinu vibrací.

Vibrátor je nabíjen pomocí USB kabelu, který je součástí balení!
Balení obsahuje:
vibrační vajíčko (Luna)

dálkové ovládaní, masážní přístroj a dobíjecí stanice ( Selene)

látkové pouzdro

USB kabel
Rozměry:
Luna 80x30x30mm, Váha: 50g


Selene 75x75x23mm, Váha: 58g
SVAKOM je prémiová mezinárodní značka sexuálních stimulátorů navržených ve Spojených státech, s kreativními tvary za použití 100% dobíjecí technologie. SVAKOM je vysoce kvalitní řada vibrátorů pro ženy, má nejrychlejší čas nabíjení v průmyslu a naše inovativní návrhy včetně prvního stimulátoru jsou vybaveny technologií kamery, která vám umožní zachytit a sdílet intimní chvíle zblízka a osobně.

Výrazné styly a návrhy erotických pomůcek poskytují intenzivní rozkoše. Neuvěřitelně tiché, ale výkonné motory nabízejí různou rychlost a intenzitu maximálního potěšení. SVAKOM byla vyvinuta na základě moderního životního stylu. Pouhým stisknutím tlačítka Vás vibrátory SVAKOM přivedou na svůdnou cestu, které začínají jemnými vibracemi, které Vás intenzivně zavednou k uspokojujícímu konci. 
Review
There are currently no product reviews. Be the first.
Related products
Svakom - Lucas Long Lasting Vibrator Violet
This product is no longer available.
Svakom - Lester Heating Vibrator Black
Lester is another of the intelligent and stylish vibrators from the Svakom brand. The smooth, silky…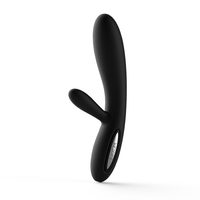 In stock
138.46 €
Svakom Cici
Luxury Cici vibrator from the Svakom brand The vibrator head is very flexible, you can use it at…

In stock
88.42 €