Product description
The vibrating yellow duck in the bath serves as a stimulating and massage toy. Vibration can be easily triggered by pressing the duck. The erotic aid is waterproof.
The cutest vibrator
- 7 vibration modes
- Powerful and quiet engine
- 100% fully waterproof
- Easy to clean
- Requires one AAA battery
- Length: 7.5 cm
Review
There are currently no product reviews. Be the first.
Related products
Kačenka Bondage Small
The vibrating duck in the bath serves as a stimulating and massage toy. Vibration can be easily…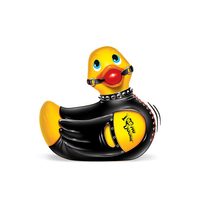 skladem
26.88 €
Kačenka Paris Small pink
The pink vibrating duck in the bath serves as a stimulating and massage toy. Vibration can be…