Product description
The G-Ki vibrator is a significant novelty in the world of erotica, it was created to please women and couples. The possibility of shaping the vibrator using a rotating joint make these vibrators a unique tool for stimulating the G-spot and the clitoris. G-Ki vibrators are as unique among the competition as any woman is. The elegant appearance and luxurious material of this vibrator are not its main advantages. The main pillar of the pleasure that these vibrators bring is the flexible joint, which can be easily fixed in any position with the help of intuitive operation. G-Ki vibrators bring the widest number of shapes and functions from which even the most demanding user will surely choose! The G-Ki vibrators, which offer several vibration and pulse modes and programs, are made of medical silicone, so they are odorless, anti-allergenic and waterproof. Charging these vibrators is very simple and fast, just attach the magnetic charger to the end of the vibrator and you can enjoy the endless pleasure that these vibrators bring.
More in the review about Je Joue vibrators here.
Length: 22 cm, weight 138 g.
Maximum diameter: head: 3.1 cm, body: 4 cm
Diameter minimum: neck = 1.9 cm, body: 3 cm
| | |
| --- | --- |
| Typ dráždění: | G-bod, Klitoriální |
| Vibrace: | yes |
| Materiál: | Lékařský silikon |
| Barva: | Fialová |
| Délka: | 22 cm |
| Váha: | 138 g |
| Voděodolnost: | yes |
| Vlastnost materiálu: | Měkký na dotek |
| Napájení: | Nabíječka |
| Typ baterie: | Nabíjecí akumulátor |
Review
There are currently no product reviews. Be the first.
Related products
BIOglide 150 ml
All ingredients are made of natural substances that are dermacologically and allergically tested.…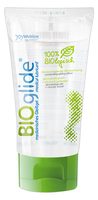 In stock
15.35 €
Durex cherry 50 ml
Durex sherry lubricating gel with cherry flavor is intended for sensitive skin and mucous membranes…

In stock
7.65 €