Product description
The Vegas Experience set includes a coral orange inner vibrator body, an electric blue vibrating ring body (both made of silk-treated medical silicone) and a basic silent motor from the Ooh collection (a mix of lovers using a single motor). The Vegas experience offers you two powerful vibration aids using only one powerful, quiet motor. The universal motor provides three speed and two vibration modes that will reliably bring you to the pinnacle of well-being. You can easily set the vibration or speed mode off, on and off using the Ooh button. In addition, the motor is fully charged via a USB cable, so finding batteries will never spoil your hot erotic moments! The LED on the motor flashes while charging. The fact that it then starts to illuminate continuously signals that the engine is fully charged.
If you want to replace the aids with another one, make sure that the engine is switched off. Then press both arrows on the sides of the tool to unlock and extend the engine. Then insert the motor into another tool of your choice.
After the correct insertion of the motor into the device, the product becomes waterproof.
This product is no longer manufactured.
Review
There are currently no product reviews. Be the first.
Related products
G-Ki ll JeJoue purple
The G-Ki vibrator is a significant novelty in the world of erotica, it was created to please women…
AMI venušiny kuličky - red
Elegant Ami set designed not only for your personal pleasure, thanks to the hidden weight that…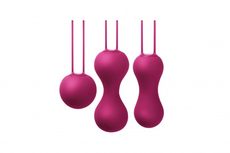 skladem
76.88 €
Vibrační kroužek Mio purple
The luxurious Mio vibrating ring boasts strong vibrations that will take you to the pinnacle of…