Product description
Smile Hopper is an anal erotic device of larger romers. The anal plug is made of hypoallergenic medical silicone, which is smooth to the touch. This material is very gentle on the skin and does not cause health complications. The Smile Hopper anal plug is ergonomically shaped by a ripple, which increases the enjoyment of insertion.
This unique Anal Pin can also be used vaginally, mainly thanks to the tapered curved tip, which allows you to stimulate the G-Spot. The pin is suitable for use before anal intercourse, as it dilates the rectum and massages the prostate. There is a suction cup at the bottom of the pin, so you can attach the anal plug to the wall, for example in the shower.
| | |
| --- | --- |
| Materiál: | Lékařský silikon |
| Barva: | Fialová |
| Délka: | 12.5 cm |
| Průměr min.: | 2 cm |
| Průměr max.: | 4 cm |
Review
Průměrné hodnocení 100%. Hodnotilo zákazníků: 2. Zobrazujeme pouze hodnocení s vyplněným komentářem.

:)

Author: Ověřený zákazník, 23.01.

Skvělá pomůcka

Author: Ověřený zákazník, 23.01.
Pro:
Příjemný materiál, akurátní velikost (ale to je subjektivní..:-)
Related products
Anal plug Smile Hopper M pink
The Hopper anal plug is a popular erotic device for middle-aged people. The anal plug is made of…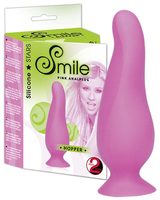 In stock
17.27 €