Product description
The Boosty anal plug is an ideal helper for anal or vaginal games in your bedroom. Boosty with its rounded shape guarantees intense stimulation and those who like to experiment will be thrilled.
The pin is made of 100% medical silicone. It is very flexible and adaptable, while not losing its strength and shape. It is very comfortable to use, easy to maintain and also hypoallergenic.
For advanced lovers of anal pleasure
Adapted to both male and female body anatomy
It combines the necessary hardness and flexibility at the same time
Very durable
Sickle grip for easy grip
All products are delivered in discreet packaging.
This product is no longer manufactured.
| | |
| --- | --- |
| Typ dráždění: | Anální, Vaginální |
| Vibrace: | no |
| Materiál: | Lékařský silikon |
| Délka: | 10,3 cm |
| Průměr: | 3,5 cm |
| Voděodolnost: | yes |
| Vlastnost materiálu: | Měkký na dotek |
Review
There are currently no product reviews. Be the first.
Related products
Elegance - green
Pleasant smooth vibrator, made of 100% medical silicone, so it is very gentle on human skin and…

Paul & Paulina - Fialová
Paul & Paulina vibrator is a luxury vibrator from the Fun Factory brand. The knurled body of…

Fun Factory Duke black
Duke is a vibrating prostate stimulator. The ergonomic shape is perfectly adapted to the male…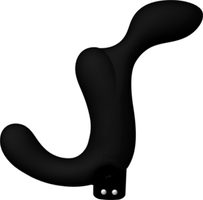 skladem
84.23 €