Product description
Thanks to the fluttering end, VOLTA is a great helper for external stimulation of the clitoris or penis.
Thanks to the interesting end of the vibrator, the vibration increases even more, stimulates excitement and increases the sensitivity of intimate parts.
Volta is adapted to stimulate not only women but also men.
Fluttering increases sensitivity and excitement
Suitable for use during intimate intercourse
Designed specifically to stimulate the clitoris
Deep roaring vibrations
6 speeds and rhythms
Key lock for safe transport
Easy to clean and maintain
USB charger included.
 
Important warning:
Fully charge the device before using it for the first time. This gives the battery maximum service life and endurance. The first charging process can take up to 12 hours.
| | |
| --- | --- |
| Typ dráždění: | Bradavky, Klitoriální, Pro páry, Vaginální |
| Vibrace: | yes |
| Materiál: | Lékařský silikon |
| Barva: | Ostružinová |
| Délka: | 18,9 cm |
| Průměr: | 4,7 cm |
| Voděodolnost: | yes |
| Napájení: | Nabíječka |
Review
There are currently no product reviews. Be the first.
Related products
Fun Factory Bi Stronic Fusion - red
Fun Factory Fushion is a stellar novelty on the vibrator market, which will fulfill your most…


skladem
176.88 €
Fun Factory Stronic Drei - modrá
Pulzátor přinesl revoluci ve stimulaci. Místo klasických vibrací disponuje pulzátor zařízením,…

Fun Factory MR BOSS black
The new generation of battery + is here! Battery + is a new way to secure your toy with lasting…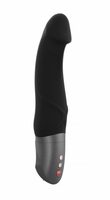 skladem
91.92 €