Product description
The new generation of Battery + is here! Battery + is a new way to ensure your toy's constant strength and at the same time behave ecologically. Thanks to the Hybrid Kit (not included), you will be able to charge the rechargeable batteries directly inside the vibrator! If you have charged batteries on hand, you can use it at any time!
ABBY G is equipped with a quiet and powerful motor, which is a guarantee of deep and sensual vibrations that you will fall in love with. Gentle serrations on the vibrator body are designed for an unforgettable G-spot massage. At the bottom are built-in three control buttons, with which you can choose from 6 vibration programs and 4 levels of vibration that the vibrator offers. The buttons are illuminated for easy use in the dark. The vibrator has a key lock, which finds its practical use mainly when traveling. MR Boss is made of medical silicone, free of phthalates and has a soft velvety feel to the touch. Its softness is also proven by the highest quality materials used with 100% hypoallergenic properties. The control part is made of ABS plastic. The body of the vibrator is 100% waterproof.
100% waterproof
18.9 cm - Ø 2.7 - 3.7 cm, 215 g
harmless materials
Endurance up to 1 hour for maximum performance
deep vibration
Clever technology allows you to charge the batteries directly in the vibrator
2x AAA batteries
Review
There are currently no product reviews. Be the first.
Related products
Fun Factory MR BOSS skin
The new generation of Battery + is here! Battery + is a new way to ensure your toy's constant…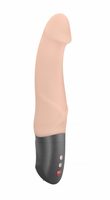 Fun Factory MR BOSS black
The new generation of battery + is here! Battery + is a new way to secure your toy with lasting…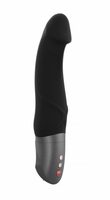 In stock
57.31 €
Fun Factory MR BOSS pink
The new generation of Battery + is here! Battery + is a new way to ensure your toy's constant…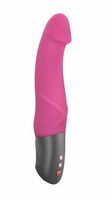 In stock
57.31 €