Product description
The luxurious vibrator from the Fun Factory brand brings real pleasure for both beginners and experienced ladies. The Big Boss vibrator, as the name suggests, is a real boss in bed. This luxury piece is made of smooth medical silicone, which is harmless and easy to clean. The vibrator has a realistic look with a slightly distinctive acorn. At the end of the vibrator is a fine serration, which increases the effect of irritation. The big boss is perfectly controlled with the help of a ring handle, which contains three buttons that are backlit, allowing easy control even in the dark. Vibrators from Fun Factory are fully waterproof, so you can enjoy it in the bath or shower and are equipped with a built-in battery, so there is no need to buy extra batteries.
The vibrator is charged using the USB connector included in the package.
Properties
3 vibration programs
8 degrees of intensity from the weakest vibrations to the strongest
100% waterproof
Built-in battery
Easy, backlit operation with Magic Touch function
100% medical silicone
Turbo button
Powerful and quiet engine with a long duration
 
Notice
For Fun Factory products, use a water-only lubricating gel.
 
Fully charge the vibrator before using it for the first time. This gives the battery maximum service life. After the first charge, the vibrator can be used for up to 12 hours!
 This product is no longer manufactured. In our offer you will find a newer version. 
| | |
| --- | --- |
| Typ dráždění: | G-bod |
| Vibrace: | yes |
| Materiál: | Lékařský silikon |
| Barva: | Oranžová |
| Délka: | 22.8 cm |
| Průměr min.: | 4 cm |
| Průměr max.: | 4.5 cm |
| Průměr: | 4.5 cm |
| Voděodolnost: | yes |
| Vlastnost materiálu: | Měkký na dotek |
| Napájení: | Nabíječka |
| Typ baterie: | Nabíjecí akumulátor |
Review
There are currently no product reviews. Be the first.
Related products
Fun Factory DARLING DEVIL red
The new generation of Battery + is here! Battery + is a new way to keep your toy running while…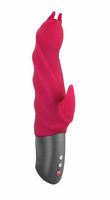 In stock
96.12 €
Paul & Paulina - Fialová
Paul & Paulina vibrator is a luxury vibrator from the Fun Factory brand. The knurled body of…

Fun Factory vibrátor Patchy Paul G5 red
The Patchy Paul G5 vibrator is another of the latest generations of Fun Factory G5 vibrators and…

In stock
103.46 €