Product description
An original tool for every man's penis! You can also use the tool when playing in pairs!
Two large flexible parts hug your penis and after the vibrations start, an interesting masturbation can begin. You can also drink a partner in the games. The aid can also help you with oral sex.
What's up with Manta teasing me?
Of course, first and foremost the penis but also the testicles, dam, nipples, clitoris. You can also use it during the intercourse itself, when it will be attached to the penis / clitoris / testicles.
made of the highest quality silicone; non-porous and hypoallergenic material
The vibrations have six different speeds and 6 vibrational rhythms, that's 12 different variations for your enjoyment
travel lock function
charging indicator
simple operation with (+) and (-) buttons
| | |
| --- | --- |
| Typ dráždění: | Pro páry |
| Vibrace: | yes |
| Materiál: | Lékařský silikon |
| Napájení: | Nabíječka |
Review
There are currently no product reviews. Be the first.
Related products
Paul & Paulina - Fialová
Paul & Paulina vibrator is a luxury vibrator from the Fun Factory brand. The knurled body of…

Fun Factory vibrátor Tiger G5 violet
The Tiger vibrator is another of the latest generations of Fun Factory G5 vibrators, which are…


In stock
134.23 €
Fun Factory MR BOSS pink
The new generation of Battery + is here! Battery + is a new way to ensure your toy's constant…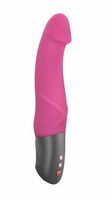 In stock
57.31 €