Product description
The Patchy Paul G5 vibrator is another of the latest generations of Fun Factory G5 vibrators and successfully builds on its older predecessor. The articulated body of the vibrator pleasantly stimulates the erogenous zone and thus increases the effect of irritation. The Patchy Paul vibrator has a slightly curved tip that allows you to easily find and stimulate the G-spot. It has an anatomical handle in the shape of a ring for comfortable one-handed handling. At the bottom of the Fun Factory Tiger G5 are built-in three buttons for control. The buttons are illuminated for easy use in the dark and are lockable. Tiger Vibrator offers: 6 vibration levels and 6 vibration programs.
The Patchy Paul G5 vibrator is made of medical silicone, free of phthalates and has a soft velvety feel to the touch. Its softness is also proven by the highest quality materials used with 100% hypoallergenic properties. The control part is made of ABS plastic. The body of the vibrator is 100% waterproof.
The novelty of the G5 generation is 25% more intense vibrations, which are evenly distributed along the entire length of the vibrator and raised buttons for intuitive operation.
Weight: 250 g.
Charges 6-8 hours, vibration time 45 min.
The vibrator has a built-in battery and is charged using a USB charger, which is included in the package.
| | |
| --- | --- |
| Typ dráždění: | G-bod, Klitoriální |
| Vibrace: | yes |
| Materiál: | Lékařský silikon |
| Barva: | Zelená |
| Délka: | 23 cm |
| Průměr min.: | 2.8 cm |
| Průměr max.: | 4.2 cm |
| Voděodolnost: | yes |
| Vlastnost materiálu: | Tvrdý na dotek |
| Napájení: | Nabíječka |
| Typ baterie: | Nabíjecí akumulátor |
Review
There are currently no product reviews. Be the first.
Related products
Fun Factory MR BOSS pink
The new generation of Battery + is here! Battery + is a new way to ensure your toy's constant…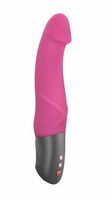 In stock
57.31 €
Fun Factory vibrátor Tiger G5 Black Line
The Tiger vibrator is another of the latest generations of Fun Factory G5 vibrators, which are…


In stock
134.23 €
Fun Factory Big Boss G5 Black Line
The Big Boss vibrator is another of the latest generations of Fun Factory G5 vibrators, which are…


In stock
134.23 €