Product description
The Tiger vibrator is another of the latest generations of Fun Factory G5 vibrators, which are equipped with innovative controls and are perfectly flexible. Thanks to the pronounced scalloping and the curved tip bringing intense vibrations, your G-spot will whine with bliss. Its wide base allows the vibrator to be used for anal games as well. It has an anatomical handle in the shape of a ring for comfortable handling with one hand. At the bottom of the Fun Factory Tiger G5 are built-in three buttons for control. The buttons are illuminated for easy use in the dark and are lockable. Tiger Vibrator offers: 6 vibration levels and 6 vibration programs.
The Tiger G5 vibrator is made of medical silicone, free of phthalates and has a soft velvety feel to the touch. Its softness is also proven by the highest quality materials used with 100% hypoallergenic properties. The control part is made of ABS plastic. The body of the vibrator is 100% waterproof.
The novelty of the G5 generation is 25% more intense vibrations, which are evenly distributed along the entire length of the vibrator and raised buttons for intuitive operation.
Weight: 270 g.
Charges 6-8 hours, vibration time 45 min.
The vibrator has a built-in battery and is charged using a USB charger, which is included in the package.
| | |
| --- | --- |
| Typ dráždění: | Anální, G-bod, Klitoriální, Vaginální |
| Vibrace: | yes |
| Materiál: | Lékařský silikon |
| Délka: | 22,5 cm |
| Průměr min.: | 3,7 cm |
| Průměr max.: | 3,9 cm |
| Voděodolnost: | yes |
| Vlastnost materiálu: | Tvrdý na dotek |
| Napájení: | Nabíječka |
| Typ baterie: | Nabíjecí akumulátor |
Review
There are currently no product reviews. Be the first.
Related products
Fun Factory Yooo CNC Multizone Vibrator green
Three balls and strong vibrations make this toy the perfect tool for orgasm. This futuristic…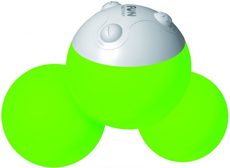 Fun Factory Spring Click
Small but handy, these are the attributes of the Spring Click 'n' Charge vibrator, which is made of…

Fun Factory ABBY G purple
The new generation of Battery + is here! Battery + is a new way to ensure your toy's constant…

skladem
84.23 €