Product description
Baby Bug is another in a series of mini vibrators that have the same features as their larger siblings. Water resistance, surgical, hypoallergenic silicone, these are the domains of all Fan Factory vibrators, and the Baby Bug vibrator is no different. Significant division allows easier stimulation of all erogenous zones of both the woman and her partner. This small vibrator offers continuous vibration control and 3 vibration programs. Total length 14 cm, diameter 3.2 cm.
 
This product is no longer manufactured.
Review
There are currently no product reviews. Be the first.
Related products
Fun Factory Amorino - blue
New fresh colors in the elegant and practical Fun Factory Amorino vibrator, which is a novelty on…


In stock
80.77 €
Fun Factory slimvibrátor VOLITA
New from the popular Fun Factory brand! The Volita vibrator has a double tip, which vibrates and…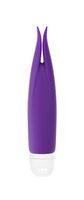 In stock
45.77 €
FunFactory JAZZIE pink
ZZIE is another from the new SlimVIBE collection from the German Fun Factory. Like his other two…


In stock
46.12 €