Product description
Fun Factory JAM is a top quality of the smallest vibrator from the new SlimVIBE collection from the popular German brand Fun Factory.
The graceful curves of the vibrator are made of medical silicone, which is waterproof, so you can enjoy your little pet even underwater. The powerful quality engine will ensure you long hours of pleasure during which you will forget about all worries. The Jam vibrator is used as a classic vibrator with a flexible and slightly curved tip for easy G-spot localization. When placed in the palm of the hand, it can serve as an aid to massaging the whole body, including the clitoris. So don't hesitate and let this little artist show off your talent.
The Jam vibrator is powered by a 1x AA 1.5 V battery
Length: 12.7 cm, Diameter: 2.9 cm
| | |
| --- | --- |
| Typ dráždění: | G-bod, Klitoriální, Vaginální |
| Vibrace: | yes |
| Materiál: | Lékařský silikon |
| Barva: | Modrá |
| Délka: | 12,7 cm |
| Průměr: | 2,9 cm |
| Voděodolnost: | yes |
| Vlastnost materiálu: | Měkký na dotek |
| Napájení: | Baterie |
| Typ baterie: | Baterie AA |
Review
There are currently no product reviews. Be the first.
Related products
Fun Factory Flash Click Red
The Flash mini vibrator is the first mini vibrator from the Fun Factory brand, which will massage…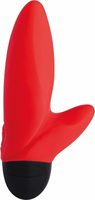 Fun Factory Baby Bug Apple Green
Baby Bug is another in a series of mini vibrators that have the same features as their larger…

FunFactory JAZZIE pink
ZZIE is another from the new SlimVIBE collection from the German Fun Factory. Like his other two…


skladem
46.12 €