Product description
The little dolphin is an ideal travel companion, thanks to its practical dimensions it can fit in any handbag or other hand luggage. A distinctive narrow nose will serve well to stimulate the clitoris or nipples. The vibrator is resistant to running water and is made of surgical silicone, so it is hypoallergenic and easy to wash. Dolphin offers continuous vibration control and 3 vibration programs. Total length 14 cm, diameter 3.2 cm.
This product is no longer in our offer.
Review
There are currently no product reviews. Be the first.
Related products
FunFactory JAZZIE pink
ZZIE is another from the new SlimVIBE collection from the German Fun Factory. Like his other two…


In stock
46.12 €
Fun Factory JAM vitamin
Fun Factory JAM is a top quality of the smallest vibrator from the new SlimVIBE collection from the…

Discount -14%

In stock
46.12 €
Fun Factory slimvibrátor VOLITA
New from the popular Fun Factory brand! The Volita vibrator has a double tip, which vibrates and…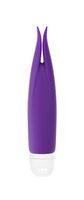 In stock
45.77 €