Product description
Branded vibrator bringing ice satisfaction. This unique erotic aid has a small container at the bottom, which you can fill with water and then let it freeze. After freezing, you remove the container and then just enjoy the icy pleasure not only in the intimate parts. The silicone part of the vibrator has an integrated vibrating device to increase erotic pleasure.
Size: 7 cm,
Diameter: 3.9 cm.
The package contains batteries.
This product is no longer available.
Review
There are currently no product reviews. Be the first.
Related products
Vibe Therapy Serenity
Luxurious, vibrator with a smooth body and a finely enlarged tip for an even more pleasant feeling.…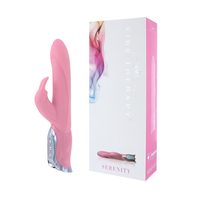 In stock
76.88 €