Product description
Vibe Therapy Tri is an elegant vibrator with three vibrating motors. One is located at the tip of the vibrator, the other in the middle and the last motor is located at the beginning of the handle. Vibration centers are arranged to always stimulate the most sensitive areas.
In addition to 7 vibration levels, the vibrator also offers a variety of vibration programs, where, for example, the motors vibrate one after the other, creating a feeling of ripple. Vibe Therapy Tri is made of soft medical silicone, which is very gentle and does not cause any allergic reactions. The vibrator is completely waterproof, so you can enjoy it in a bath or shower.
Batteries not included. We recommend purchasing 3x AAA batteries.
| | |
| --- | --- |
| Typ dráždění: | G-bod, Klitoriální |
| Vibrace: | yes |
| Materiál: | Lékařský silikon |
| Barva: | Růžová |
| Délka: | 23 cm |
| Průměr: | 4 cm |
| Voděodolnost: | yes |
| Napájení: | Baterie |
| Typ baterie: | 4 baterie AAA |
Review
There are currently no product reviews. Be the first.
Related products
Vibe Therapy - Delight Pink
Tento produkt se již nevyrábí.


skladem
96.12 €
Vibe Therapy Fascinate - pink
The well-known company Vibe Therapy brings to the market a new modern on the surface of a smooth…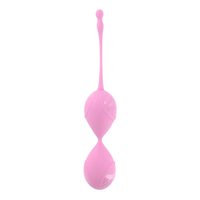 skladem
30.73 €
Vibe Therapy Zest - blue
Extremely quiet, popular Vibe Therapy Zest vibrator. The vibrator boasts a rainy serration on the…