Product description
Slightly curved and very smooth vibrator from the Vibe Therapy workshop in blue. It is made of surgical silicone. The vibrator is resistant to running water (suitable for showers). Easy to maintain. The package contains a fine bag for discreet storage.
Parameters of erotic aids
Watertight
7 vibration modes
Material: Medical silicone
Very flexible
Size: 12.5 cm long, Ø 3 cm
This product is no longer in our offer.
Review
There are currently no product reviews. Be the first.
Related products
Vibe Therapy Serenity
Luxurious, vibrator with a smooth body and a finely enlarged tip for an even more pleasant feeling.…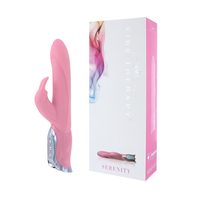 In stock
76.88 €