Product description
Partner Toy se stane Vaši oblíbenou hračkou, k večerním radovánkám. Partnerský vibrátor  slouží  ke stimulaci klitorisu a zároveň bodu G. Horní část díky svému silnému motoru intenzivně stimuluje ženský klitoris, zatímco spodní část, která se zavádí vnitřně, během styku stimuluje nejen ženin G-bod, ale i partnerův penis. Extra silný ale tichý motor dokáže zázraky! Partner Toy nabídne 10 vibračních programů, které můžete jednoduše přepínat pouhým tlačítkem.  Partner je vyroben z kvalitního lékařského silikonu, který se snadno uržuje a je voděodolný. Vibrátor se nabíjí pomocí USB kabelu po dobu 2 hodin, na jedno nabití výdrží v provozu cca 1 hodinu. Váha 63g.
Partner Toy Plus se nabíjí prostřednictvím magnetického USB kabelu, který najdete v balení!
Tento produkt je již nedostupný.
| | |
| --- | --- |
| Materiál: | Lékařský silikon |
| Barva: | Fialová |
| Průměr min.: | 0,8 cm |
| Průměr max.: | 2,1 cm |
| Voděodolnost: | yes |
Review
There are currently no product reviews. Be the first.
Related products
We-vibe Tango - purple
We-vibe Tango is very similar to Salse, differing mainly in the shape of the tip, which is beveled.…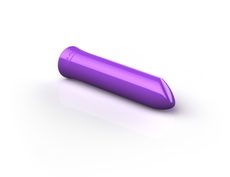 We-Vibe Ditto
We-Vibe Ditto is a purple vibrating anal plug. For your anal pleasure alone or in pairs, the Ditto…
We-Vibe 3 - Rubín
We-vibe 3 je vylepšené pokračování nejoblíbenějšího duálního vibrátoru pro páry na světe. Tento…