Product description
We-vibe 3 je vylepšené pokračování nejoblíbenějšího duálního vibrátoru pro páry na světe. Tento jedinečný společník je naprostou jedničkou v celém historii erotických pomůcek. Jeho denialita spočívá ve stimulaci klitorisu a G-Bodu zároveň, a to i při souloži s partnerem!
We-vibe 3 si zachoval tvar svého předchůdce. To proto, že jeho tvar je již tak dokonalý a tělu přizpůsobený, že nelze nic zlepšovat. We- vibe 3 si také zachoval materiál, kterým je 100% hypoalergenní chirurgický silikon, který je plně vodotěsný (vydrží být ponořený ve vaně) a snadno se udržuje v čistotě. We-vibe 3 nabídne až o 40% vibrační energie.

Velkou novinkou We-vibu 3 je bezdrátové dálkové ovládání, které vám zajistí pohodlné přepínání ze 6 vibračních programů a to na dálku až 3 metrů. Bezdrátové dálkové ovládání obsahuje baterii s dlouhou životností, která vydrží po mnoho let. Baterii nelze vyměnit. Ovladač můžete uložit do bezdrátové nabíjecí základny, která slouží i jako diskrétní úložné pouzdro pro cestování. We-vibe 3 se nabíjí pomocí nabíjecí stanice do které stačí  umístit oba konce masážního přistroje, nabíječka automaticky rozpozná We-vibe, rozsvítí se žlutá kontrolka a začne nabíjení. We-vibe vydrží na plné nabití až 2 hodiny vibrací.
Vibrační režimy:
plynulá vibrace 3000 otáček za minutu
plynulá vibrace 5000 otáček za minutu
vlny (plynule se měnící vibrace)
pulzace 
dorážení
cha-cha
G-bod: 80 x 28 x 18 mm
Klitoris: 80 x 29 x 21 mm
Váha: 60 gramů.
Před prvním použitím dobijte svůj We-vibe po dobu 24 hodin.
Doporučujeme použít lubrikační gel na vodní bázi.
Nabíjení indukční stanice je nyní nově prostřednistvím USB kontektoru.
Tento produkt se již nevyrábí, proto doporučujeme zakoupit nový model: We vibe Match
| | |
| --- | --- |
| Typ dráždění: | Pro páry |
| Vibrace: | yes |
| Materiál: | Lékařský silikon |
| Barva: | Zelená |
| Voděodolnost: | yes |
| Vlastnost materiálu: | Měkký na dotek |
| Napájení: | Nabíječka |
| Typ baterie: | Nabíjecí akumulátor |
Review
There are currently no product reviews. Be the first.
Related products
We-Vibe Unite
We-vibe is a Canadian manufacturer of luxury erotic aids that have turned this environment upside…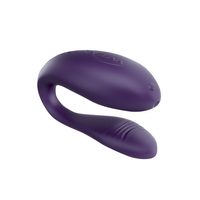 Best seller

In stock
115.35 €
WE-VIBE CHORUS
New improved version of Chorus from the We-vibe brand. Enjoy the incredible closeness of your…
Discount -39%
Best seller
New

In stock
192.27 €
We-Vibe Rave
Specially designed novelty from the We-vibe brand for irritating the G-spot. The luxuriously tuned…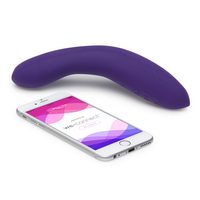 In stock
130.73 €