Product description
The most successful erotic toy for couples comes to the market from the latest We-vibe 4 plus series, which is complemented by several new functions and colors of the vibrator. Like the previous models, it stimulates the clitoris and the G-spot, and these tender ones copy the curves of the female body, while the stiffer middle part adheres perfectly to the clitoris. Flexibility and perfect shape have been preserved in we-vib. We-vibe 4 plus is made of the popular medical silicone, which is pleasant and velvety soft to the touch. It is easy to wash and lasts a long time. The whole construction of the vibrator is 100% waterproof! The charging station and wireless remote control (range up to 3 m) We-vibe remains the same as in older models.
What does We-vibe 4 plus bring?
The biggest novelty with We-vibe 4 plus is the control of the vibrator using an application in your mobile phone (applies to phones with the Android operating system, or to phones from Apple). Whether you are next in peace or on the other side of the world, you will always have control over your partner. There are 5 bonus modes and above all you can create your own.
Phone application in Czech!
remote control, application on the phone in Czech
10 vibration programs (5 basic + 5 in the application)
custom vibration creation of playlists in the application
new modern look with a velvety soft finish
charging station
modern remote control with easy switching of intensity and programs
an improved ergonomic shape created by top sexologists and engineers
100% waterproof
4 hours of charging lasts up to 3 hours of operation
The controller is not charged in the charger, it has an ordinary button battery, which can be replaced.
The induction station is powered by the included USB connector!
Compatible devices:
iPhone 4s and newer
iPod Touch 5th generation and newer
iPad 3rd generation and newer
iPad mini and newer devices Select Android ™, Android 4.3
and higher smart Bluetooth Ready
https://itunes.apple.com/us/app/we-connect-by-we-vibe/id890526071?mt=8https:
//play.google.com/store/apps/details?id=com.standardinnovation.wevibe
Black colour
Vibrator dimensions: 74.7 x 41.6 x 31.4 mm
This product is no longer available.
| | |
| --- | --- |
| Typ dráždění: | G-bod, Klitoriální |
| Vibrace: | yes |
| Materiál: | Lékařský silikon |
| Barva: | Růžová |
| Voděodolnost: | yes |
| Vlastnost materiálu: | Měkký na dotek |
| Napájení: | Nabíječka |
| Typ baterie: | Nabíjecí akumulátor |
Review
Průměrné hodnocení 85%. Hodnotilo zákazníků: 4. Zobrazujeme pouze hodnocení s vyplněným komentářem.

-

Author: , 20.09.

Velmi účinný vibrátor. Doporučuji zejména jako partnerský, ke společným hrátkám...

Author: , 20.09.

dobrá vecička , aj pre páry -

Author: Ověřený zákazník, 20.09.
Pro:
dobrá vecička , aj pre páry

Moc hezka hračička

Author: , 20.09.
Related products
We-Vibe Unite
We-vibe is a Canadian manufacturer of luxury erotic aids that have turned this environment upside…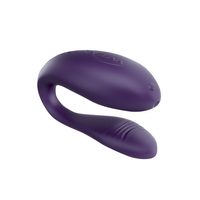 Na skladě
115.35 €
We-vibe Wish
This product is no longer in our offer.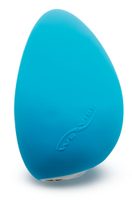 We Vibe II
A revolutionary novelty in the field of sex toys, a unique design that brings pleasure even when…