Product description
The sequel to the most successful dual vibrator for couples of all time is very successful and will delight lovers more than ever. The ergonomically shaped body of the vibrator has undergone minor modifications so that the vibrator fits even better. The upper part of the vibrator irritating the clitoris is slightly curved and the lower part at the G-spot is slightly flattened. All these adjustments are designed so that We-Vibe fits perfectly during the intercourse and does not "interfere" anywhere. It is suitable for all body proportions.
We-Vibe 4 is again made of medical silicone, but with a small surface finish. Unlike the previous "rubber" silicone, the new We-Vibe has a velvety soft surface that glides very well and is hygienic (no dust particles adhere to it).
We-Vibe 4 offers 6 vibration modes and 10 intensities in each mode. Modes and intensity are switched using the wireless remote control with the up and down arrows. The remote control has a range of up to 3 meters. Use the "left / right" buttons to switch between vibration modes, the "up / down" buttons to adjust the intensity. We-vibe 4 is complemented by ECHO mode, which alternates vibrations at the G point and the clitoris.
Vibration modes:
weak vibrations
medium vibration
very strong vibrations
short fast pulses
increasing and decreasing vibrations (waves)
ECHO mode (alternation of vibrations on the outer and inner motor)
We-Vibe 4 is charged using an induction station, which is powered by a USB connector.
Two powerful silent motors provide intense stimulation
100% water resistance allows use in the shower and facilitates cleaning
Wireless remote control with intensity control
6 vibration modes, including the new Echo vibration mode
6-hour charging ensures 3 hours of operation
Discreet case for recharging and traveling
Charge your We-Vibe for 24 hours before using it for the first time.
We recommend using a water-based lubricating gel.
| | |
| --- | --- |
| Typ dráždění: | Pro páry |
| Vibrace: | yes |
| Materiál: | Lékařský silikon |
| Barva: | Fialová |
| Délka: | 7.3 cm |
| Průměr min.: | 3 cm |
| Průměr max.: | 4 cm |
| Voděodolnost: | yes |
| Vlastnost materiálu: | Měkký na dotek |
| Napájení: | Nabíječka |
| Typ baterie: | Nabíjecí akumulátor |
Review
Průměrné hodnocení 90%. Hodnotilo zákazníků: 2. Zobrazujeme pouze hodnocení s vyplněným komentářem.

dobrý pomer kvalita - cena

Author: Ověřený zákazník, 21.01.

Objednal som we-vibe 4, no prislo mi we-vibe 4+. Ale nestazujem sa. Super produkt.

Author: Ověřený zákazník, 21.01.
Pro:
Viac modov, regulacia intenzity vibracii, pekne balenie
Proti:
Priatelke nedrzi na mieste tak ako sme si mysleli. Treba ho pridrziavat aby nevypadol, no nie je to az taky problem ;)
Related products
WE-VIBE CHORUS
New improved version of Chorus from the We-vibe brand. Enjoy the incredible closeness of your…
Discount -39%
Best seller
New

In stock
192.27 €
We-Vibe Unite
We-vibe is a Canadian manufacturer of luxury erotic aids that have turned this environment upside…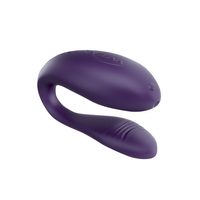 Best seller

In stock
115.35 €
We-Vibe Sync purple
The latest model of the popular We-Vibe pair vibrator brings you a little more pleasure and new…
Discount -17%

In stock
192.27 €