Product description
Another version of the most successful erotic toys for couples is here! We-Vibe is coming to the Czech market as We vibe Classic. We vibe perfectly stimulates the clitoris and G-Point at the same time, even when having sex with a partner! We-Vibe Classic can be controlled using a smartphone, iPod or iPad via an application that you can download on Google Play or the App Store. Your parterre can control the vibrator and freely set different vibrational intensities, even if it is on the other side of the world. Two quiet, powerful motors offer up to 10 different vibration programs, including the new ECHO VIBE program, which allows you to switch freely between external and internal motor. Its predecessors have become the most popular erotic aid for couples, so the new line promises extra quality enhanced by new features:
- fast charging full charge in 4 hours, 3 hours of pleasure on one charge
- remote control via smartphone or other compatible device via a special We-Vibe application
- 10 vibration programs (5 basic + 5 in the application)
- Custom creation of vibration playlists in the application
- new modern look with a velvety soft finish
- An improved ergonomic shape created by top sexologists and engineers
- stiffened middle part
- modern remote control with easy switching of intensity and programs
- charging station, USB cable

The new We-Vibe Classic looks very modern. The entire vibrator is made of 100% phthalate-free medical silicone, which is very pleasant to the touch and easy to maintain. In addition, at the request of customers, the material is much finer and velvety soft to the touch, and 100% waterproof. In addition, it is also resistant to all water-based lubricants.
We-Vibe Classic control is very simple. You can choose from three options, either classically via a button located on the front of the vibrator or using a wireless remote control, or using a smartphone or other modern device. Use the up and down arrows to select between 10 levels of intensity, use the right and left buttons to switch between 10 programs. The range of the remote control is up to 3 meters.
We-Vibe Classic will fit into the charger in only one way - with an external massage cushion with the We-Vibe logo at the top. The charger automatically detects the We-Vibe 4 Plus massager in place, the yellow light comes on and charging starts. Charge your We-Vibe for 24 hours before using it for the first time.
Compatible devices:

iPhone 4s and newer
iPod Touch 5th generation and newer
iPad 3rd generation and newer
iPad mini and newer devices Select Android ™, Android 4.3
and higher smart Bluetooth Ready
The program for connection in the phone is available in Czech, English, Chinese, Dutch, French, German, Japanese, Polish, Portuguese, Russian and Spanish.
Connection options:

Smartphone remote control requires an active Bluetooth connection. Remote control distance requires active Wi-Fi or mobile data connection (3G / 4G / LTE)
Dimensions: Length: 8.39 cm, height: 5.5 cm, diameter: 2.88 cm.
Max. noise: 50 dB
This product is no longer manufactured, so we recommend purchasing a new model: We vibe Match
Review
There are currently no product reviews. Be the first.
Related products
We-Vibe 3 - Fialový
We-vibe 3 je vylepšené pokračování nejoblíbenějšího duálního vibrátoru pro páry na světe. Tento…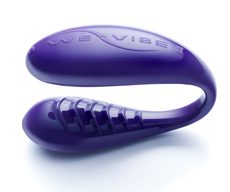 Partner Toy
Another novelty on the market and that is Partner Toy Plus! Enjoy an exceptional evening with this…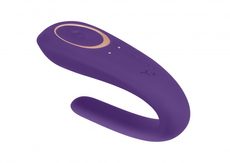 Discount -40%
We-vibe Touch - red
The luxury vibrator bearing the We-Vibe Touch label successfully builds on the good name of this…