Product description
Specially designed novelty from the We-vibe brand for irritating the G-spot. The luxuriously tuned vibrator offers up to 10 different vibration modes and others, your own, can be created using an application on a smartphone. Control via buttons on the device or a mobile application that can be used with the Android 4.4 operating system or with Apple mobile phones with iOS7 and higher. With We-Vib Rave, it doesn't matter if you are in the same room or everyone on a different continent - just download the We-Connect app and then touch the screen to control the vibration and intensity of the vibrator. The Rave vibrator is made of first-class medical silicone without phthalates, latex and harmful substances. It is very pleasant to the touch, easy to maintain and resistant to splashing water, so you can take it with you in the shower. The time until the vibrator is fully charged is 90 minutes and you can then enjoy up to 2 hours. When the low battery is lit, the indicator lights up. For charging, a simple USB magnetic charger is included in the package, which snaps into place without any problems.
Quiet and powerful motorcycle
100% waterproof
Charging with a USB cable
Low battery indicator
Length: 19.3 cm, diameter: 3.1 cm
Package contents:
We-vibe Rave vibrator
USB cable
Vibrator storage case
Compatible devices:
iPhone 4s and newer with iOS 7 and higher,
iPod Touch 5th generation and newer,
iPad third generation and newer,
iPad mini and newer.
Selected Android devices:
HTC One (M8).
Samsung Galaxy S3.
Samsung Galaxy S4.
Samsung Galaxy S5.
Review
There are currently no product reviews. Be the first.
Related products
We-vibe Salsa - red
The luxury vibrator from We-Vibe has continued its long tradition. The small vibrator is made of…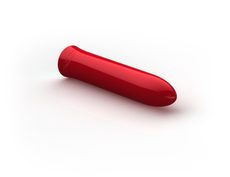 Bloom by We-Vibe
We-Vibe Bloom - Vibrating Venus Balls. Strengthening the pelvic floor can be more interesting…
We-vibe Touch - red
The luxury vibrator bearing the We-Vibe Touch label successfully builds on the good name of this…