Product description
We-Vibe Thrill builds on the long tradition and experience of the Canadian company We-Vibe. Unlike its predecessors, the We-Vibe Thrill is designed exclusively for women.
The thrill consists of two parts, each containing a vibration center. The lower, which is slightly enlarged, is inserted and stimulates the G-Spot. The upper part, which has a handle for easier handling, stimulates the clitoris. Thanks to Thrill, you will enjoy stimulating the two most sensitive places on a woman's body at once.
We-Vibe Thrill is made of 100% silicone and ABS plastic. Both materials are very gentle on the skin and do not cause allergic reactions. When using We-Vibe, avoid applying the silicone-based gel, as the silicone gel will damage the smooth, silicone surface. Use only water-based lubricating gels.
The thrill has built-in batteries and is completely enclosed, which allows 100% water resistance. The battery can be charged with the AC adapter or with a USB cable. For just 90 minutes of charging, the vibrator lasts up to 2 hours in operation.
Vibrator dimensions: 10 x 10 x 3.5 cm.
We-Vibe Thrill offers you eight types of programmed vibration modes:
smooth vibration low
smooth vibration medium
smooth vibration ultra (ultra)
Tease
Wave - continuously changing vibrations
Pulse - pulsation (regular alternation of maximum and minimum)
Cha-cha - chacha, in the rhythm of dance.
This product is no longer manufactured, so we recommend purchasing a new model: We vibe Match
| | |
| --- | --- |
| Typ dráždění: | G-bod, Klitoriální |
| Vibrace: | yes |
| Materiál: | Lékařský silikon |
| Barva: | Červená |
| Voděodolnost: | yes |
| Vlastnost materiálu: | Měkký na dotek |
| Napájení: | Nabíječka |
| Typ baterie: | Nabíjecí akumulátor |
Video
Review
There are currently no product reviews. Be the first.
Related products
We-Vibe Unite
We-vibe is a Canadian manufacturer of luxury erotic aids that have turned this environment upside…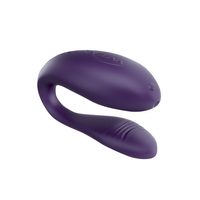 Best seller

In stock
115.35 €
WE-VIBE CHORUS
New improved version of Chorus from the We-vibe brand. Enjoy the incredible closeness of your…
Discount -39%
Best seller
New

In stock
192.27 €
We-Vibe Rave
Specially designed novelty from the We-vibe brand for irritating the G-spot. The luxuriously tuned…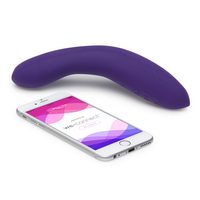 In stock
130.73 €