Product description
The luxury vibrator bearing the We-Vibe Touch label successfully builds on the good name of this brand with its perfect design. Its slightly rounded tip allows precise stimulation of the clitoris, and the G-Spot can be easily found and stimulated when the vibrator is inserted. We-Vibe Touch is made of medical silicone and is therefore completely gentle on the skin. Touch brings 4 levels and 4 rhythms of vibration. The first time you press the vibrator, it turns on and with each press you increase the force of the vibration. After the fifth press, you can change the rhythm of the vibrations - Intermittent, decelerating and accelerating, quickly intermittent Length 10.1 cm, diameter (max) 4.4 cm.
We-vibe Touch
ergonomic shape
flexibility
water resistance
built-in battery
simple control
Weight - 90g
Charging - 90 min.
Use only water-based gels on We-Vibe brand products.
| | |
| --- | --- |
| Materiál: | Lékařský silikon |
| Barva: | Červená |
| Délka: | 10.1 cm |
| Průměr: | 4.4 cm |
| Voděodolnost: | yes |
Review
There are currently no product reviews. Be the first.
Related products
We-Vibe Unite
We-vibe is a Canadian manufacturer of luxury erotic aids that have turned this environment upside…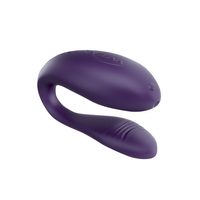 Best seller

In stock
115.35 €
We-Vibe Sync purple
The latest model of the popular We-Vibe pair vibrator brings you a little more pleasure and new…
Discount -17%

In stock
192.27 €
WE-VIBE CHORUS
New improved version of Chorus from the We-vibe brand. Enjoy the incredible closeness of your…
Discount -39%
Best seller
New

In stock
192.27 €