Product description
Another erotic toy is coming to the market, which is created just for women. Be one of those who will try it and make it one of your favorites. This is a vibrating Satisfyer 2, which is designed to massage and stimulate clirotis. Satisfyer 2 offers up to 11 intensities and it's up to you which one you choose. The advantage is easier control thanks to the + and - buttons, which allow you to play with your body without restrictions. Satisfyer is compact, so it can be used on the go. It has a simple and elegant design. The body of the vibrator is made of 100% medical silicone. Variety of games and try it, for example, in the shower or bath. Maintenance is easy. Just immerse them under lukewarm water before and after.
We recommend purchasing 2x AAA batteries, which are not included in the package.
| | |
| --- | --- |
| Typ dráždění: | Klitoriální |
| Barva: | Zlatá |
| Délka: | 16 cm |
| Napájení: | Baterie |
Review
There are currently no product reviews. Be the first.
Related products
Satisfyer Pro 2 Next Generation
An improved version of the modern Satisfyer massage device for 2! Satisfyer Pro 2 comes in a…

skladem
61.50 €
Satisfyer Pro Penguin Next Generation
You can find a great review from our tester Kristýna here: Satisfyer Penguin Review. The newest and…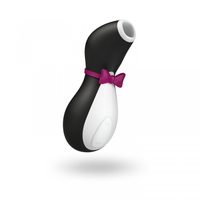 skladem
69.19 €
Satisfyer - Pro 4 Couples
New sexual aid for couples - connection of a pair vibrator with a clitoral stimulator. The…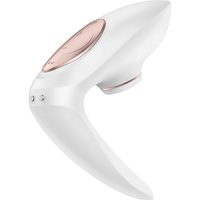 skladem
76.88 €