Product description
Hot news from the world of stimulators, Satisfyer Pro G-Spot Rabbit, is here! This amazing 2in1 stimulator is exactly what women have always wanted. The combination of two completely different concepts gave rise to the Satisfyer Pro G-Spot Rabbit stimulator - a vibrator with a clitoral suction device. Satisfyer for G-spot offers 3 vibration speeds and 7 vibration rhythms. The ergonomic shape of the vibrator guarantees a comfortable fit in the hand for easy handling. The body of the vibrator is made of a soft and smooth, slightly flexible material that adapts to your body. At the tip of the vibrator is a powerful motor that vibrates Satisfyer in 7 rhythms and provides stunning vaginal stimulation. The outer arm of the toy has a silicone hole that adheres to your cunt and will only stimulate without contact using the pressure wave function. This way of stimulation is nothing new, the Satisfyer brand has dominated the market with it for several years and gives women the best orgasms. You can choose from 11 suction modes, between which you can easily switch between the buttons on the handle. The vibrator is charged using a USB cable.
7 vibration modes and 11 suction modes
silky soft silicone material
watertight
easy to clean and maintain
discreetly quiet
it is charged using the USB cable included in the package
| | |
| --- | --- |
| Vodotěsnost: | no |
| Pulzace: | yes |
| Typ dráždění: | Anální, Klitoriální, Vaginální |
| Vibrace: | yes |
| Materiál: | Silikon |
| Barva: | Bílá |
| Délka: | 22.5 cm |
| Průměr min.: | 2.8 cm |
| Průměr max.: | 3.5 cm |
| Voděodolnost: | yes |
| Vlastnost materiálu: | Měkký na dotek |
| Napájení: | Nabíječka |
| Typ baterie: | Nabíjecí akumulátor |
Review
There are currently no product reviews. Be the first.
Related products
Menstrual cups SATISFYER FEEL SECURE MENSTRUAL CUP blue
Two SATISFYER FEEL SECURE MENSTRUAL CUP silicone menstrual cups Blue cups also suitable for…
Discount -38%
New

In stock
19.19 €
Satisfyer Partner Multifun 1
The Multifun 1 vibrator will surprise you with its unique shape and 3 powerful motors in each of…

In stock
76.88 €
SATISFYER - ONE NIGHT STAND
Are you still hesitant to invest in a better and more powerful model? Thanks to this model, you…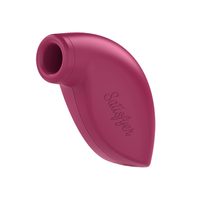 In stock
19.19 €