Product description
The latest version of modern and according to polls also the best toys for women in a new packaging! Smaller than before and in a new discreet shape of luxury lipstick. Thanks to your design, you can put it anywhere at home and no one will know that it is such an intimate thing. Thanks to its size, it is suitable for travel, it fits comfortably into any luggage or handbag, you don't even have to worry about checking at the airport, its appearance is really inconspicuous. The Womanizer massage machine gently absorbs the clitoris and then stimulates it without contact with the help of pulsating pressure waves. With Womanizer, there is no risk of clitoral irritation or any unpleasant pain. You will experience completely new feelings of pleasure, which are crowned with orgasms. With Womanizer, multiple orgasms are no exception. A single button turns the womanizer off or on and adjusts the pacing intensity. Womanizer 2Go offers 6 levels of intensity - from extra fine to ultra strong.
Charging time: 60 minutes, operating time 120 minutes.
Dimensions: 125 x 35 x 35 mm, weight: 130g
material: medical silicone
100% waterproof (up to 1m underwater)
The package includes two stimulation attachments. One standard in a hole size of approx. 11 x 13 mm and one in a hole size of approx. 17 x 23 mm. The extensions are removable and easy to wash.
Properties:
Non-contact clitoral stimulation
Sensitive intensity control
Light effect in the dark
Thanks to the new technology, the clitoris will not become resistant to stimulation
It causes multiple orgasms
Rechargeable lithium-ion battery (USB charging)
Replaceable stimulation attachment made of medical silicone
An absolutely new orgasmic experience
This product is no longer available. We can offer you products from the brand Satisfyer.
Review
There are currently no product reviews. Be the first.
Related products
Satisfyer Mono Flex red
Satisfyer Mono Flex  Krásný elegantní červený vibrátor od značky Satisfyer potěší i ty…
New

In stock
88.42 €
Satisfyer Curvy 3+ pink
The revolutionary CURVY 3+ model Unrivaled clitoral stimulation and extensive control options via…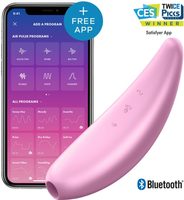 New

In stock
76.88 €
Womanizer Premium pink
WOMANIZER PREMIUM pink with a velvety soft silicone body. The Smart Silence function ensures that…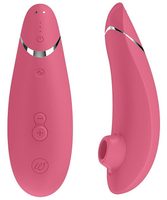 Discount -39%
Best seller
New

In stock
192.27 €