Product description
More powerful, quieter, lighter, shaped for a more comfortable grip, adjustable intensity with one button and even more satisfying! This is the new Womanizer!
The Womanizer massage machine gently absorbs the clitoris and then stimulates it without contact with the help of pulsating pressure waves. With Womanizer, there is no risk of clitoral irritation or any unpleasant pain. You will experience completely new feelings of pleasure, which are crowned with orgasms. The package contains two stimulation attachments, one standard in the size of approx. 14 x 12 mm and one XL in the size of approx. 20 x 19 mm. The extensions are removable and easy to wash. The Womanizer is simply charged using a USB cable after being fully discharged for 120 minutes, the operating time is 240 minutes. Womanizer is not waterproof because of the way it works, but only waterproof.
Womanizer w500 news:
adjustable stimulation intensity from gentle level 1 to super powerful level 8! You can easily switch between the individual steps with the + and - buttons.
o Compared to the original version of the womanizer, the quieter, quiet mode is 42 dB
womanizer weighs only 128 g
new vibrator design for more comfortable handling and new luxurious colors
standard and XL stimulation heads included
light effect in the dark
dimensions: 125x62 mm
Womanizer is the first in the world with a new stimulation technique that will guarantee you multiple orgasms! Satisfyer.
Review
Průměrné hodnocení 93%. Hodnotilo zákazníků: 3. Zobrazujeme pouze hodnocení s vyplněným komentářem.

jsem velmi spokojená

Author: Ověřený zákazník, 29.10.

splnil očekávání, určitě doporučuji

Author: Ověřený zákazník, 29.10.
Pro:
splnil očekávání,
určitě doporučuji

Nejlepší hračka pro ženy co existuje.

Author: Ověřený zákazník, 29.10.
Pro:
naprosto famózní záležitost! Orgasmus i proti vaší vůli.
Related products
Womanizer Masážní strojek - Pink
One or two orgasms in a few minutes at the touch of a button? It's a Womanizer!   With Womanizer…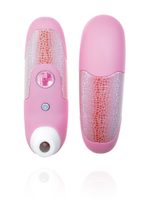 skladem
130.73 €
Satisfyer Luxury Pret-a-porter
Beautiful design of a new tool from the Satisfyer brand. It is an intimate aid for stimulating the…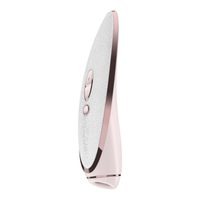 skladem
153.46 €
Womanizer Massage machine w500 - Tattoo
More powerful, quieter, lighter, shaped for a more comfortable grip, adjustable intensity with one…