Product description
Výkonnější, tišší, lehčí, tvarovaný pro pohodlnější držení, nastavitelná intenzita pomocí jednoho tlačítka a navíc ještě více uspokojující! To je nový Womanizer!
Masážní strojek Womanizer zlehka nasaje klitoris a pak jej s pomocí pulzujících tlakových vln bezdotykově a jemně stimuluje. S Womanizerem nehrozí podráždění klitorisu ani žádné nepříjemné bolesti. Zažijete tak zcela nové pocity slasti, které jsou korunovány orgasmy. V balení jsou dva stimulační nástavce, jeden standardní ve velikosti cca 14 x 12 mm a jeden XL ve velikosti cca 20 x 19 mm. Nástavce jsou odnímatelné a snadno omyvatelné. Womanizer se jednoduše nabíjí pomocí USB kabelu po úplnem vybití po dobu 120 minut, délka provozu je 240 minut. Womanizer není kvůli způsobu, jakým funguje vodotěsný, ale pouze voděodolný.
 Novinky Womanizeru w500:
nastavitelná intenzita stimulace od jemného stupně 1 až po supervýkonný stupeň 8! Mezi jednotlivými stupni lze jednoduše přepínat tlačítkem + a -.
o proti původní verzi womanizeru je tišší, tichý režim 42 dB
womanizer váží pouze 128 g
nový desing vibrátoru pro pohodlnější manipulaci a nové luxusní barvy
standardní i XL stimulační hlavice součástí balení
světelný efekt ve tmě
rozměry: 125x62 mm
Womanizer je první na světe s novou stimulační technikou, která Vám zaručí několikanásobné orgasmy!
Statistika 50 respondentek ve věku od 20 do 60 let:
 73% žen zažívá mnohonásobný orgasmus
76% žen má mimořádně intenzivní orgasmus
63% žen prožívá zcela nový sexuální zážitek
98% žen chce vlastnit Womanizer
100% žen hodnotí Womanizer jako absolutně jedinečný
Tento produkt již není dostupný. Můžeme vám nabídnout produkty od značky Satisfyer.
Review
There are currently no product reviews. Be the first.
Related products
Satisfyer Mono Flex pink
Satisfyer Mono Flex  Krásný elegantní růžový vibrátor od značky Satisfyer potěší i ty nejnáročnější…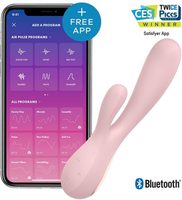 New

In stock
88.42 €
Satisfyer Dual Pleasure white
Satisfyer DUAL PLEASURE Unikátní disigne a nadupané funkce! Dvojnásobné potěšení! Bezkontaktní…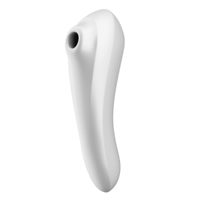 New

In stock
88.42 €
Satisfyer Pro 2 Vibration
The third generation of Satisfyer Pro 2 is here! The aid is complemented by a "vibration spell" and…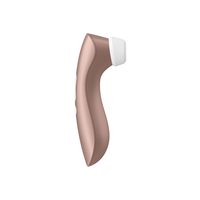 Best seller

In stock
76.88 €