Product description
Womanizer Starlet
Womanizer Starlet byl navržen tak, aby byl zajímavý pro ženy, které jsou teprve na začátku svého sexuálního života, ale i zralým ženám, které v sexuálním životě už ví, co chtějí a potřebují. Womanizer zlehka nasaje klitoris a pak jej s pomocí pulzujících tlakových vln bezdotykově a jemně stimuluje. Ženy tak zažijí zcela nové pocity slasti.
- Menší rozměry: 85 x 50 x 60 mm
- Jednoduché ovládání za pomoci jednoho tlačítka - Pro zapnutí tlačítko podržte po dobu asi 2 vteřin. Chcete-li zvýšit intenzitu, znovu stiskněte tlačítko. Nejvyšší intenzity je dosaženo po třetím kliknutí, po čtvrtém se přepne zpět do mírného režimu. Můžete si tedy užít celkem 4 úrovně stimulace.
- Dobíjení pomocí USB kabelu. Doba nabíjení je 30minit, doba provozu je také 30minut.
- Materiál: ABS, silikon
- Pro maximální vzrušující pocity doporučujeme použít Womanizer s kapkou lubrikantu
Tento produkt již není v naší nabídce.
| | |
| --- | --- |
| Typ dráždění: | Klitoriální |
| Vibrace: | no |
| Materiál: | ABS/Silikon |
| Barva: | Fialová |
| Voděodolnost: | no |
| Vlastnost materiálu: | Tvrdý na dotek |
| Napájení: | Nabíječka |
Review
There are currently no product reviews. Be the first.
Related products
Satisfyer - Pro Plus Vibration
SATISFYER PRO Plus VibrationSatisfyer PRO Plus Vibration, offers innovative clitoral stimulation…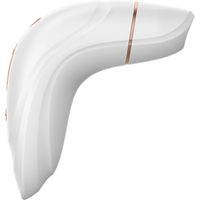 In stock
76.88 €
Satisfyer Pro 2 Next Generation
An improved version of the modern Satisfyer massage device for 2! Satisfyer Pro 2 comes in a…
Discount -61%

In stock
69.19 €
SATISFYER LOVE BREEZE
Novinka od značky Satisfyer je tu! Love Breeze Tlakové vlny stimulují klitoris bezdotykově v 11…
New

In stock
80.73 €