Product description
Luxury stimulator for women Womanizer ™ DUO
The device combines intense stimulation of the clitoris and strong vibrational irritation of the G-spot. Pleasure Air technology ™ surrounds the clitoris with waves of air pressure, while the vibrator provides deep pulsations inside your body. When turned on, the Womanizer ™ DUO will work in contact with the skin thanks to Smart Silence ™ technology and will remain in standby mode when not in use. This means that the Womanizer Duo only starts when it comes in contact with the skin. Until then, it will remain in standby mode and return to standby mode when the Duo is removed from the body. So you don't have to worry about annoying vibrating sounds when the Duo isn't in use - even when you're enjoying it with your partner.
interesting look
ergonomic shape
water resistance
the flexible vibrating irritation arm inside the vagina has 12 vibrating stages and the suction nozzle on the clitoris has 12
suction pulses.
quiet operation
Evolutionary technology will give you orgasms in seconds
Rechargeable, charges via USB cable.
Operation up to two hours after full charge.
Made of 100% medical silicone, it is gentle on the skin
package contents: USB cable, 2 x suction muzzle, satin bag, elegant box
Dimension:
length: 19.2 cm x 12 cm
diameter: 3 cm
| | |
| --- | --- |
| Typ dráždění: | G-bod, Klitoriální, Pro páry |
| Vibrace: | yes |
| Materiál: | ABS/Silikon |
| Barva: | Černá |
| Délka: | 13 cm |
| Průměr max.: | 3 cm |
| Voděodolnost: | yes |
| Napájení: | Nabíječka |
Review
There are currently no product reviews. Be the first.
Related products
Womanizer Pro W500 - Mint
More powerful, quieter, lighter, shaped for a more comfortable grip, adjustable intensity with one…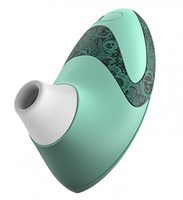 Womanizer Pro W500 - Rose
Výkonnější, tišší, lehčí, tvarovaný pro pohodlnější držení, nastavitelná intenzita pomocí jednoho…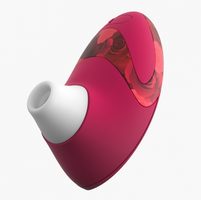 Womanizer Premium pink
WOMANIZER PREMIUM pink with a velvety soft silicone body. The Smart Silence function ensures that…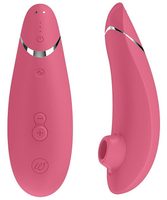 In stock
191.92 €