Product description
Zini Hua is an elegant vibrator that hides unique features that bring an amazing experience. Zini Hua has a floral pattern that has its justification. Fine protrusions increase the effect of irritation. The vibrator is multifunctional and therefore has a clitoral stimulator. The clitoris is the most sensitive place on a woman's body, so its irritation brings maximum pleasure.
Zini Hua has two vibrating motors that can cause very strong vibrations. These are controlled with the +/- button. Zini Hua offers 5 smooth vibration levels and 15 pulsating programs. The first motor is located in the head of the vibrator, which can be used to stimulate the G-Point completely accurately and emphatically. The second is located in the area of ​​the clitoral irritant, which in turn allows very effective stimulation of the sensitive site. The control is very well made and allows easy handling. In addition, the buttons are backlit in different colors.
Zini Hua is wrapped in medical silicone, which is hypoallergenic and is therefore suitable for even the most sensitive type of mucosa. Medical silicone does not cause any allergic reactions and is very easy to keep clean. Use only water-based lubricating gels for this type of material.
The Zini Hua vibrator has a built-in battery, so you don't have to buy extra batteries all the time. Thanks to the built-in faucet, the vibrator is completely waterproof and you can enjoy it in the shower or bath.
Dimensions: 204 x 25 x 30 mm, Weight 180 g,
| | |
| --- | --- |
| Typ dráždění: | Klitoriální |
| Vibrace: | yes |
| Materiál: | Lékařský silikon |
| Barva: | Růžová |
| Délka: | 20.4 cm |
| Průměr min.: | 1.5 cm |
| Průměr max.: | 3 cm |
| Voděodolnost: | yes |
Review
There are currently no product reviews. Be the first.
Related products
BIOglide 150 ml
All ingredients are made of natural substances that are dermacologically and allergically tested.…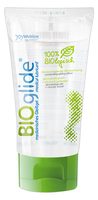 Na skladě
15.35 €
Special cleaner 200ml
The special cleaner spray contains a cleaning solution with antibacterial effects (one use will…