Product description
Do you want to silence your partner? Get a small black Bad Kitty round gag. The gag is very easy and fast to put on, the flexible latex straps adapt to the size of the head and then they are simply fastened together using D-rings. The hard plastic ball is without holes and is fixed with a dry winter.
The size of the black BAD KITTY gag is: ball diameter 3.5 cm.
Review
There are currently no product reviews. Be the first.
Related products
handcuffs - Red/Black
Luxurious red handcuffs with black felt and forging are made of genuine leather. Handcuffs are…
Discount -69%

In stock
30.73 €
Fetish Fantasy Pleasure Tape Bondage Tape - Red
No lover of BDSM games should miss the bondage tape from the Fetish Fantasy collection. It is…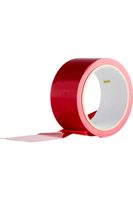 Sale

In stock
19.19 €
Bad Kitty Silicone Nipple Clamps
Beautiful nipple clamps from the Bad Kitty brand with adjustable pressure using a screw. The clamps…