Product description
Solid black and black leather collar with metal trim. The collar has an adjustable size and a leash can be attached to it.
It is backed with black felt, does not cause bruises or scratches.
Circumference 32 cm - 41 cm.
Review
There are currently no product reviews. Be the first.
Related products
Whip with fringes - black
Whip with black leather fringe. Whip length: 50 cm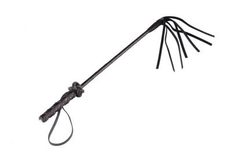 Bad Kitty Leather Slapper
Untraditionally processed slapper. The handle is originally decorated in the style of lacing - it…


skladem
23.04 €
Mask painted CAT
Black latex mask with small ears, large eye openings in the shape of a cat's eyes.

Na skladě
34.58 €