Product description
Solid black and black leather collar with metal trim. The collar has an adjustable size and a leash can be attached to it.
It is backed with black felt, does not cause bruises or scratches.
Circumference 32 cm - 41 cm.
Review
There are currently no product reviews. Be the first.
Related products
Bondage Submit to Me by Fifty Shades of Grey
Fifty shades of gray bring you a unique collection of erotic aids and the Sumbit to Me product. The…
Bondage kit BAD KITTY
The high-quality Bad Kitty brand set contains 5 parts of erotic aids. The set is suitable for…

In stock
57.65 €
Bad Kitty Red Giant
The large 8-piece Bad Kitty set is made of a pleasant material in a red / black design. The…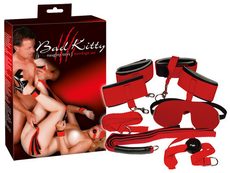 In stock
38.42 €