Product description
Black feathers BAD KITTY with pearlescent shades for erotic teasing and irritation. Discover his partner's most sensitive places and succumb to seduction during your intimate games. The feathers are attached to a 22 cm long plastic rod. The length of the fluff itself is about 7 cm.
Review
There are currently no product reviews. Be the first.
Related products
Leather handcuffs decorated - black / black
Luxus black handcuffs with black felt and forging are made of genuine leather. Handcuffs are…
Silikonový Dilator Set
Set of three corrugated, very flexible uretric dilators with different diameters. Seamless round…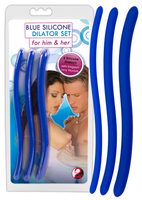 skladem
26.50 €
LateX latex mask
Black latex mask, with holes for eyes and mouth for easy breathing.

skladem
21.35 €